Shashi Kapoor Second to None
The films we remember Shashi Kapoor most for are the ones in which he played, with infinite grace and good humour, second fiddle.
Shashi Kapoor was not just a successful scion of the First Film Family of Hindi cinema, son of Prithviraj, brother of Raj and Shammi, and indisputably the most handsome of them all. He was also a multi-tasker of a significant order: actor, director, and producer, with a lifelong passion for theatre. He acted in a series of 'halki-phulki' song-and-dance festooned hits right through the '60s, alongside such varied talents as Nanda and Asha, Hema and Sharmila, Rakhee and Zeenat, Rekha and Shabana. Most of these were colourful concoctions in which he played the conventional romantic lead, balancing a lover's ardour with just the right degree of sophisticated restraint.
But the films we remember him most for are the ones in which he played, with infinite grace and good humour, second fiddle. It was said that his jodi with Amitabh Bachchan was more memorable than any of his leading ladies. While that may be a stretch, there really is no doubt that his twin-act with Bachchan led to some of the finest films Hindi cinema has produced, starting with Yash Chopra's Deewar, in which Kapoor had the 'maa', and Bachchan had, consequently, nothing.
Then there was Trishul, Kabhi Kabhie, Kala Pathhar, Suhaag, in each of which Kapoor's relaxed ease held out against the simmering coiled intensity of Bachchan. Amitabh needed a foil to underline his brand of angst; Shashi provided just that, and added the necessary heft to those films. The one other film he will always be remembered for is New Delhi Times, a rare trenchant political thriller, which was based on true events, and for which he received a National award.
The most interesting facet of Kapoor's career was in the films he chose to produce, so radically different from the standard-procedure mainstream stuff he acted in. He cast himself in Junoon (1978), as the kohl-eyed Pathan Javed Khan, who saves an 'angrez' girl from a fate worse than death during the backdrop of the 1857 rebellion. It is one of his most striking performances, and it gave Shyam Benegal a chance to make one of his most ambitious films.
He partnered with Benegal again for Kalyug, a modern-day reinterpretation of the Mahabharat, and one of Hindi cinema's underrated classics. He also produced, apart from Vijeta, the lovely, elegiac 36 Chowringhee Lane, a film that never gets old.
One of his last significant appearances was in long-time collaborator Ismail Merchant's In Custody (Muhafiz, 1993), in which he plays a corpulent Urdu poet who speaks to and of a time past. There was more than a hint of melancholy in both the film and performance: the lingering sense of an ending.
His Best
Prem Sagar in The Householder (1963):
The film was the first venture of Merchant Ivory productions. Kapoor essayed the role of a teacher who is torn between learning the ropes of a new marriage and constant interference by his mother. He eventually finds solace in the teachings of a swami.
Raja Kumar in Namak Haram (1973):
Playing a rich businessman smitten by a sultry dancer Parveen Babi, Kapoor complemented Amitabh Bachchan's comic timing in this film.
Ravi Verma in Deewar (1975):
The film was centred around the famed 'angry young man' but Salim Javed's clincher of a dialogue 'Mere paas maa hain' was delivered by the honest-to-goodness police officer played by Kapoor. The role won him the Filmfare award for Best Supporting Actor.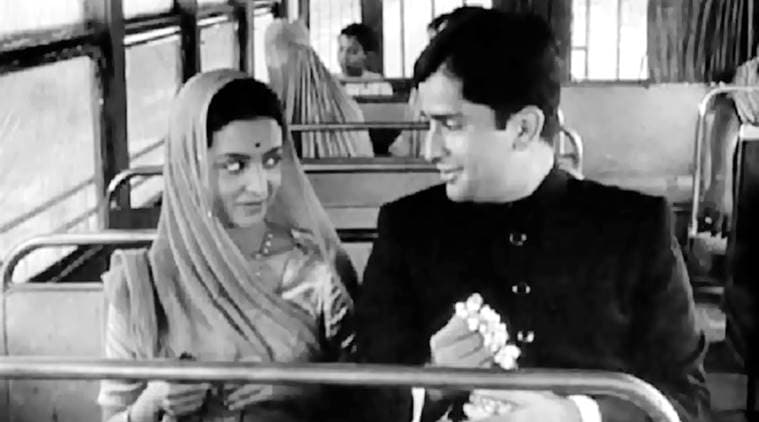 Shashi Kapoor
Shekhar in Trishul (1978):
Kapoor's portrayal of Amitabh Bachchan's brother (for the umpteenth time) won the hearts and sympathies of many. Kapoor was the legitimate son of Sanjeev Kumar, and at the receiving end of Vijay's (illegitimate son of Kumar) wrath.
Karan in Kalyug (1981):
Shyam Benegal's crime-drama, which is often said to be inspired by the Mahabharat, had Kapoor play Karan, an orphan brought up by the patriarch of the family, Bishamchand.
Nihal Singh in Vijeta (1982):
Produced by him, the film had Kapoor playing second fiddle to his son, Kunal, who was making his debut. Kapoor played Nihal Singh, a Punjabi, married to Rekha, a Maharashtrian. His character dealt with marital problems and his son's indecisiveness.
Vikas Pande in New Delhi Times (1986):
Kapoor played a fearless editor of a newspaper, dedicated to uncovering the nexus of corruption between the media and politicians.
Songs forever
Pardesiyon se na akhiyan milana – (Jab Jab Phool Khile, 1965)
Shashi Kapoor, who played Raja the boatman, is seen crooning in this bittersweet Anand Bakshi ditty composed by Kalyanji-Anandji and sung by Mohammad Rafi, while rowing his boat on the Dal Lake.
O meri sharmilee – (Sharmilee, 1971)
One of the top 100 songs in Ameen Sayani's Binaca Geetmala in that year, it had Kapoor replicate some of the dance moves of his brother Shammi Kapoor.
Khilte hain gul yahan – (Sharmilee, 1971)
A dapper Kapoor sings this at a party. It was written by lyricist Neeraj and Kishore Kumar gave the lines their soul.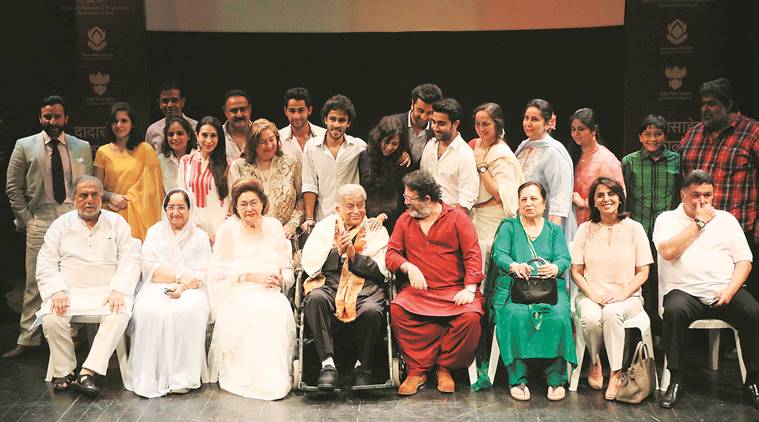 Shashi Kapoor with the Kapoor family in 2015 (Amit Chakravarty)
Tum bin jaoon kahan – (Pyar Ka Mausam, 1969)
One of the most beautiful serenades of its times, this Mohammad Rafi piece has Kapoor wielding a mandolin and working along an absolutely phenomenal RD Burman composition.
Likhe jo khat tumhe – (Kanyadaan, 1968)
In Mohammad Rafi's voice, insistent and expressive, this song was all playfulness and soul.
Sar se sarke – (Silsila, 1981):
Perhaps one of the more underrated songs, this Shiv-Hari composition sung by Lata Mangeshkar and Kishore
Kumar, combined folk with Indian classical music.