Putin to visit Crimea for military parade
Russian media says Vladimir Putin could attend a May 9 military parade marking victory in WWII in Sevastopol in Crimea, which hosts the Black Sea fleet.
President Vladimir Putin will make his first visit to the Crimean peninsula since Russia annexed the territory in March, in a move to bolster public support amid simmering tensions in Ukraine.
Russian dailies Kommersant and Gazeta.ru reported Putin could attend a May 9 military parade marking victory in World War II in Sevastopol, which hosts the Black Sea fleet.
The trip to Sevastopol "is on the agenda, the issue has to be confirmed with the Kremlin administration," a high-ranking source in the defence ministry told Kommersant.
Putin could fly to Crimea after overseeing the country's main military parade on Red Square, marking 69 years since Nazi Germany surrendered its forces, the reports said.
The reports said Putin could travel with Prime Minister Dmitry Medvedev, in a rare joint trip.
Russia and the other ex-Soviet states celebrate victory in World War II on May 9. Putin has often used Soviet Union's World War II victory to boost patriotism and domestic support.
The crisis in Ukraine, which has pushed Russian relations with the West to lows not seen since the end of the Cold War, has also featured World War II rhetoric.
Moscow has frequently dismissed the pro-Western government in Kiev as "Nazis" and "Fascists".
And Russia said the Kiev authorities admire a war-time nationalist leader Stepan Bandera, who proclaimed an independent Ukrainian state that would work with Nazi Germany.
He is hated by Russians for collaborating with the Nazis but remains a hero to some Ukrainian nationalists.
Russian President Vladimir Putin has stressed Russia's support for Serbia on a visit to Belgrade for its first military parade in decades.
He backed Serbia's position on Kosovo as the country marked 70 years since Soviet troops helped liberate Belgrade from Nazi occupation.
Serbian President Tomislav Nikolic said Russia was his country's "big ally".
Serbia's close ties with Russia sit awkwardly with its EU ambitions, especially since the Ukraine crisis.
On the eve of his arrival, Mr Putin made a strong attack on US foreign policy, telling Serbian newspaper Politika that America was trying to blackmail Russia with sanctions over Ukraine.
He is due to meet a number of foreign leaders at an Asia-Europe summit in the Italian city of Milan.
They include Ukrainian President Petro Poroshenko and German Chancellor Angela Merkel, amid pressure on Russia to implement a peace plan for eastern Ukraine.
Under sanctions – and increasingly isolated over his actions in Ukraine – President Putin remains outwardly defiant, the BBC's Sarah Rainsford reports from Moscow.
One of the key issues that Mr Putin is set to discuss with his Ukrainian counterpart is a possible deal for Ukraine to pay its gas debts in return for a resumption of Russian gas supplies.
'Big ally'
The Russian and Serbian leaders watched as jets, including a Russian aerobatic team, flew in formation over Belgrade to applause from the crowd.
More than 3,000 Serbian soldiers took part in the parade, marching in heavy rain, with tanks, rockets and boats all featuring.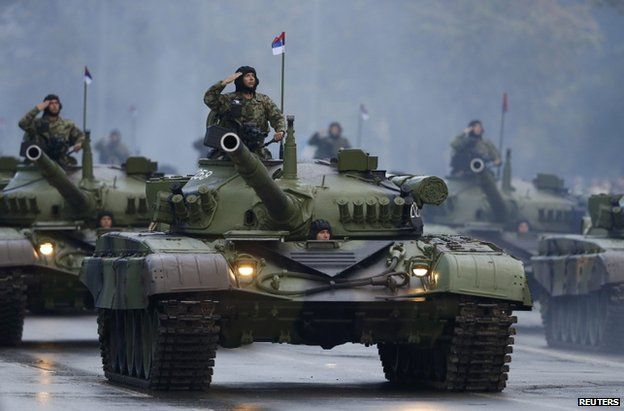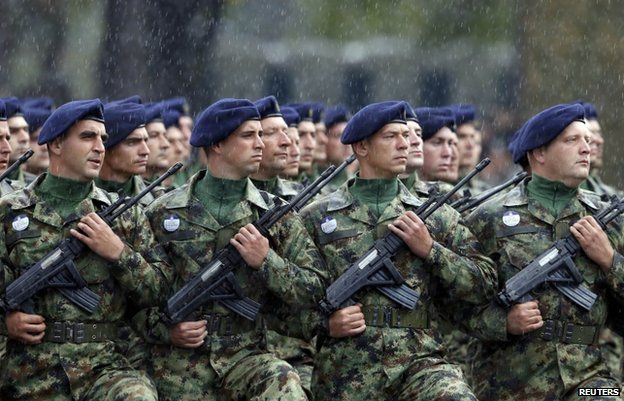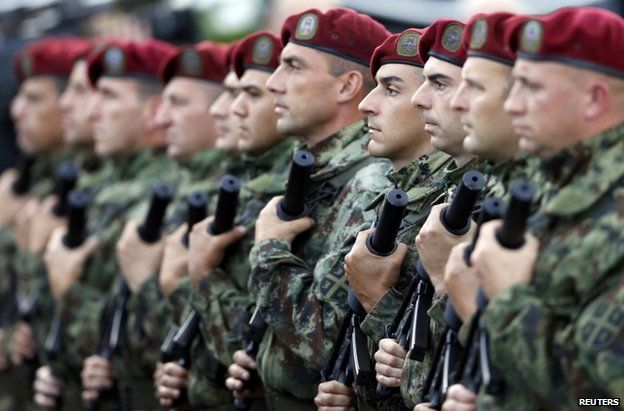 At talks with Mr Nikolic, Mr Putin said Russia continued to support Serbia's claim on its breakaway Kosovo region, where the ethnic Albanian majority declared independence six years ago.

At the scene: Guy de Launey, BBC News
Vladimir Putin received Serbia's highest honour from his counterpart, Tomislav Nikolic. The award of the Order of The Republic of Serbia is a token of Belgrade's desire to maintain its ties with Moscow, even though it formally opened negotiations to join the European Union in January.
"Russia, just as in the past, will always see Serbia as our closest ally," Mr Putin said.
But he took off the heavy chain of the Order just seconds later. It is tempting to view that as symbolic following the declaration of Serbia's Prime Minister, Aleksandar Vucic, that his country was "on the European path".

"Russia does not trade with friendship," Mr Putin said.
Serbia's president in turn reaffirmed his country's good relations with Russia, notwithstanding the conflict over Ukraine.
"Serbia also sees Russia as its big ally and Serbia will not jeopardise its moral principles due to some negative attitudes towards Russia," Mr Nikolic said.
"We simply have no choice, we cannot behave in any other way."
Mr Putin also encouraged Serbia to increase trade with Russia, as EU sanctions bite. "It will be a nice time for Serbia to export," he said.
New statue
Mr Putin also visited the main monument to the city's liberation in 1944, standing before a wreath as the countries' national anthems were played.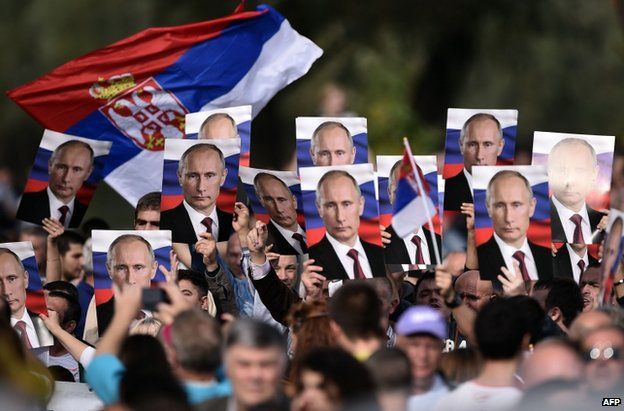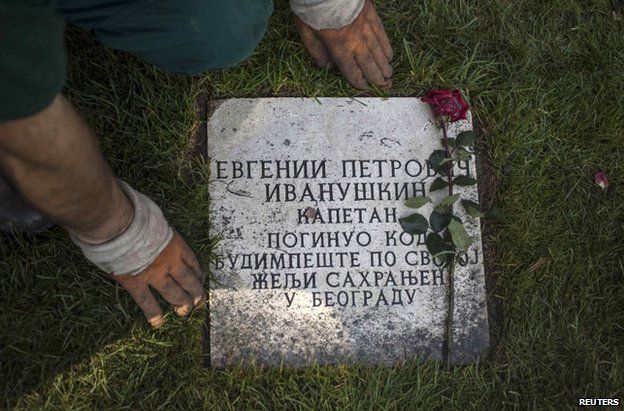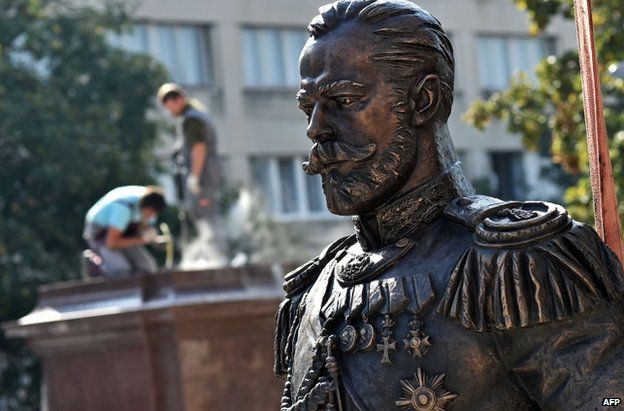 The event is likely to play well among Serbs and Russians nostalgic for Yugoslavia and the Soviet Union.
In another nod to the two countries' historic relations, a statue of Russia's last Tsar, Nicholas II, was erected this week in Belgrade.
The timing of the parade has upset some Serbs as it was brought forward four days from the actual anniversary of the liberation, apparently to fit into Mr Putin's schedule.
The parade is likely to jar with EU leaders, given Russia's use of military force in Ukraine this year, when it annexed Crimea, Since then it has been accused of intervening covertly in the bloody separatist rebellion in Ukraine's eastern regions.
Mr Putin told Politika the parade in Belgrade would contribute to efforts to "oppose the glorification of Nazism and attempts to revise the outcome of World War Two".
"The vaccine against the virus of Nazism has weakened in certain European countries," he added.
Provided by : http://www.sbs.com.au