Virat Kohli trumps Salman Khan, Priyanka Chopra, Anushka Sharma on Facebook, has 35 mn followers. See ranking here

Virat Kohli has 35 million Facebook followers. This is more than any other Bollywood star. Only Prime Minister Narendra Modi stands ahead of Virat with 42.2 million followers. Virat might be ahead of Salman Khan in total numbers, but his fans in Pakistan are surely less than the Tubelight star. While Virat has 1.1 million Pakistani fans, Salman has 3.3 million.
Virat Kohli is the king of cricketing field. And as much as his fan following can be seen inside the stadium while he is playing, so can be found even outside. And for those who think when not playing his game, he needs someone like his rumoured girlfriend and actor Anushka Sharma to make news, this latest piece of news might shatter your belief. Virat has overthrown all of Bollywood stars. No, we aren't talking about any box office numbers or an endorsement deal. With 35,726,291, Virat has emerged the star with the most number of Facebook followers, surpassing the B-town biggies like Salman Khan, Deepika Padukone, Priyanka Chopra and even Amitabh Bachchan. His lady love Anushka herself has much low following with 8,416,694 Facebook likes on her official profile.
While Bhaijaan of Bollywood Salman Khan stands at close 35,118,151 followers, Deepika boasts of 34,048,708 followers. Our global star Priyanka also stands much behind Virat at 31,742,857 figure. While Salman's followers have seen a surge, thanks to his latest release Tubelight and all the promotionals that happened around it in the past few days, it won't be wrong if the actor overtakes Virat in the coming days, as the two only have a small difference of 608,140. Also, as we write this, Salman's followers are only increasing. But until then, Virat is the undisputed king of Facebook.
Virat's fans in Pakistan are no less. He might be leading fiery and competitive cricket matches against India's onfield arch rivals, but he also gets enough love from the neighbouring nation. Virat's fans in Pakistan stand at 1,107,704. But Salman wins over him in Pakistan with 3,365,358 Pakistani followers. Virat's Indian fans are 29,773,818 and that of Salman are 19,776,694. This purely shows that it is Indian followers which have made the cricketer more loved on Facebook that the actor.
(GRAPHIC CREDIT: Social Bakers)

Adding another feather in the cap of Virat Kohli is the fact that he is now number 52 in celeb list across the world on Facebook. While Cristiano Ronaldo leads this world list, followed by Shakira and Vin Diesel, Virat's position surely makes the entire nation proud.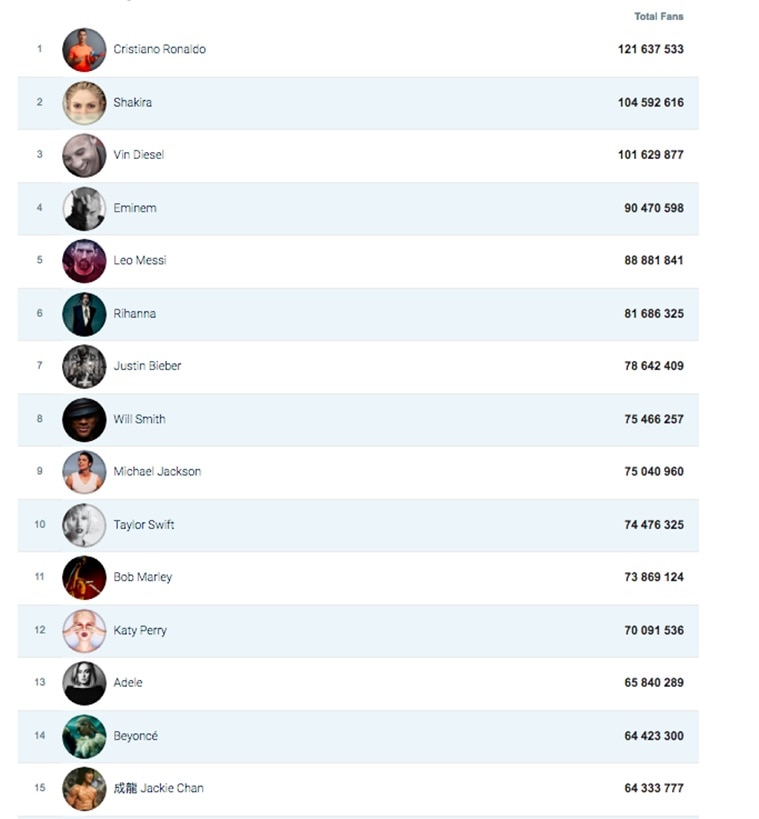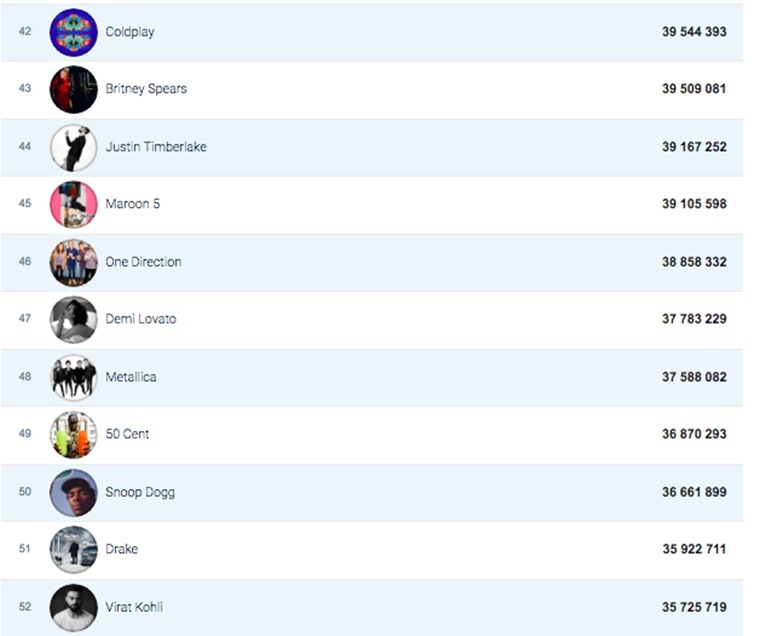 The only personality who is above Virat is Indian Prime Minister Narendra Modi who has 42,285,934 Facebook followers. It isn't surprising to see PM Modi trumping all the other stars with these many fans, but Virat's ranking is surely something to reckon with. In a star-stuck India, you surely either need to be a cricketer or a movie star to win the love of the people, as Bollywood and cricket are two areas where emotions are at its highest and its superstars are worshiped like Gods.
Provided by : http://indianexpress.com